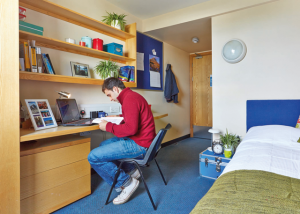 Smoke detectors throughout the University of East Anglia's (UEA) student accommodation have been replaced with Nittan's Evolution EV-DP Dual Wavelength Photoelectric smoke detectors to remove issues with false alarms caused by steam that it had been experiencing previously.
4500 Nittan devices, including more than 2500 Nittan EV-DP smoke detectors, have been installed by Global Fire Services Ltd. throughout the 24 accommodation buildings spread across the 320 acre UEA campus.
The University was experiencing around 20 false alarms every week caused by steam escaping from the bathrooms and activating the smoke alarms. Each alarm event has to be checked and verified by security personnel before Fire and Rescue Services will attend. A reduction in false alarms is therefore not just convenient, but also has significant cost and time benefits.
Furthermore, UEA consistently ranks among the best universities in the country for student satisfaction, with its accommodation provision an integral part of this offering. Reducing false alarms – and therefore disruption – within student living areas was regarded as having a role to play in the quality of the overall accommodation.
Greg Smith, Director of Global Fire Services, explains why the decision was made to switch to Nittan alarms: "originally the plan was to relocate the existing detectors further away from the bathrooms. Whilst this would provide the same level of fire protection, it would be quite a costly solution as it would not only involve moving the devices and cables, but also redecorating afterwards to cover up where the alarms had been previously. We were also concerned that the steam would affect these devices in the new location. As the existing alarms were coming to the end of their lives anyway, we recommended instead swapping to Nittan's EV-DP smoke detectors which easily cope with steam."
Nittan Evolution EV-DP smoke detectors have been designed to reduce false alarms caused by non-combustion products such as steam, dust and aerosols. Unlike other industry standard (single optical sensor) smoke detectors on the market that claim to distinguish between smoke and non-combustion products, the EV-DP effectively measures the actual particle size in the chamber via its combined IR and blue LED technology. As steam and dust are much larger particles than smoke, the detector won't false alarm.
This is the first time Nittan smoke detectors have been installed at UEA. An initial on-site demonstration was conducted by Global Fire Services in one of the student rooms to compare the existing manufacturers' alarms with Nittan's EV-DP alarms in a real setting. When steam was deliberately built up in the room to test and compare the alarms, only the Nittan EV-DP alarm stayed silent, whilst the existing one went into false alarm. However once even the smallest amount of smoke was introduced, the Nittan detector reacted and went in to alarm as intended.
UEA were impressed with the results and Global Fire Services replaced the smoke alarms in the student accommodation with the Nittan EV-DP detectors in the summer holidays. The installation was completed ahead of schedule. The existing wiring and panels have been used for maximum cost-effectiveness.
12 months on and, according to Steve Edwards, Electrical Design Engineer, Estates and Building Division at UEA, there have been no false alarms due to steam. "All accommodation blocks now have Nittan alarms installed, with further alarms being fitted in to 531 bedrooms. Security is very satisfied with the results."
Nittan EV-DP alarms are not just highly resistant to false alarms, but come with a number of key features and benefits, including their use of a sophisticated and highly flexible Sine Wave FSK protocol for data transfer to and from the panel. This protocol also allows for substantial amounts of information to be transmitted back to the panel at very high speeds. Furthermore, they come with a 360 degree OMNIVIEW LED indicator, permitting clear and visible indication of the sensor's operation from any angle. Increased EMC immunity is also achieved by the inclusion of a "Bandpass Discriminator Circuit" which is built into every sensor head and loop device.
Nittan has now launched EV-DPH with a combined Heat Sensor to compliment the features of the Dual-Optic Smoke sensor. This is available in either A2R or CS Heat Grades for new Installations.
The Nittan Group has been at the forefront of the international fire protection industry since 1954 and has sales, R&D and manufacturing bases in four countries, including the UK. The company continuously innovates and strives for exceptional quality products that meet the highest of standards.