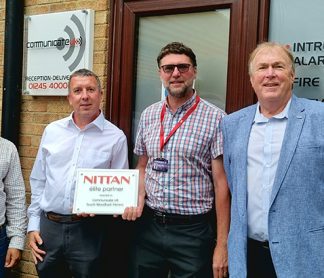 Communicate UK proudly presented with "Nittan Elite System" Partner Plaque
Nittan are delighted to announce Communicate UK have been formally presented with a Nittan Elite wall plaque. Communicate UK have been working with Nittan for several years and have officially been Nittan Elite Partner since February 2021. However due to COVID restrictions and guidelines we were unable to present...
NITTAN SPONSORS 'FIRE ENGINEERING APPRENTICE OF THE YEAR' FOR FIVE YEARS
Following its inaugural sponsorship of South Eastern Regional College's (SERC) Fire Engineering Apprentice of the Year award in 2020, Nittan Europe is pleased to announce its continued support of the award across five years. As part of the sponsorship, Nittan has supplied a trophy and a prize, plus donated...
Nittan "2 for 1 deal" on Tech Support in busy periods
For many years, the Nittan Technical Support line has been an essential first point of contact for many customers, and even more so with recent social distancing rules meaning engineers were often alone on site and in need of manufacturer support and guidance. To cope with this recent higher...